RocketSTEM • March 2017 • Vol. 5 No. 1 (Issue 14)
We're launching another issue of RocketSTEM to celebrate the start of our organization's fifth year. While half a decade has been quite a journey for us, it is nothing compared to the 50-plus-year history of Kennedy Space Center's Launch Complex 39A. From racing the Russians to the Moon during the Apollo program, through the construction of the International Space Station during the Space Shuttle program, and now the most recent launch of the Falcon 9 rocket by SpaceX, the world-famous launch pad has quite a story to tell. Speaking of SpaceX, the private space firm is also preparing to launch its biggest ever rocket – the Falcon Heavy – from Pad 39A later this year. But the company's founder, Elon Musk, is already laying the groundwork for an even bigger rocket – the Interplanetary Transport System – that will allow humanity to colonize Mars and explore even further out into the solar system. In the meantime, a fleet of orbiters and rovers from three space agencies are busy checking out the Red Planet, while NASA's Dawn spacecraft has been been analyzing a dwarf planet named Ceres.
All that – and more – in this issue of RocketSTEM magazine.
And, as always, every issue remains free to read online or download as a PDF.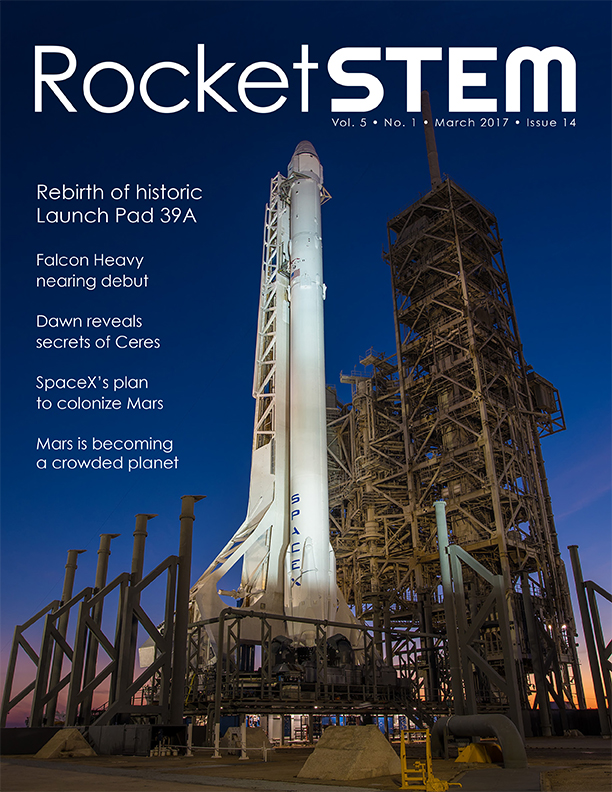 Table of Contents
Exploring Mars – Eight rovers and orbiters from three space agencies are at the Red Planet.
Helo, Mars! – Learn to compute flight data for the proposed Mars Helicopter Scout.
Historic Pad 39A – The launch pad has been America's gateway to space for five decades.
Falcon Heavy – SpaceX is gearing up to debut its new rocket later this year.
SpaceX goes bigger – The Interplanetary Transport System may open up the solar system to exploration.
Dawn's harvest – NASA spacecraft has been revealing secrets of Ceres, a dwarf planet.
Also Inside:
ExoMars dipping into position
What went wrong?
Word Find
Cosmic winter wonderland
India's record setting launch
Remembering Gene Cernan
Remembering John Glenn
Print Copies Available
Once again we are pleased to announce high-quality printed copies of this issue are available for purchase.
Make a Donation
RocketSTEM Media Foundation is a not-for-profit organization established for the purpose of fostering science, technology, engineering and mathematics (STEM) education via the promotion of the wonders of space exploration.
If you enjoy this magazine, please consider making a donation to our organization. One-time donations may be made via PayPal on the Donations page of our website.RocketSTEM Media Foundation is registered with the I.R.S. as a tax-exempt charity under Section 501(c)(3) of the U.S. tax code. Donations are fully tax deductible as allowed by law.
RocketSTEM • March 2017 • Vol. 5 No. 1 Issue 14 (ISSN: 2326-0661) • © 2017 All Rights Reserved
We hope you will continue to be inquisitive about this universe we all inhabit. Educators and students may reuse the magazine's material in their classrooms, however, no commercial use or other reproduction is allowed.
Check out every issue of the magazine!